Work with Me
My Editing & Mentoring
I work with writers at all levels of experience in all stages of their writing careers.
Learn about my editing & mentoring packages



Read My Books 
What Julia Cameron has to say about Writing as a Sacred Path
"Jill Jepson is a potent muse, a trailblazer who writes with passion and authenticity. Monk, mystic, shaman, and warrior, she is a shape-shifter who calls us to our deepest selves."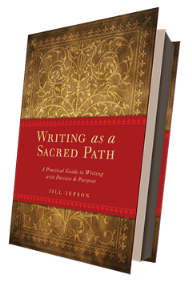 Enjoy My Fiction 
"The Drowning Time" – The Writing Disorder
"Donovan's Whale" – Front Porch Journal
"Screw, Button, Potato" – Adelaide Literary
"Arrows" – Across the Margins
"My One True Talent" – Easy Street
"The Ones who Go In" – Darkfire Fiction

My strategies for writers will help you create a more successful, productive, & joyful writing life. Receive them in your email twice a month.